Michael Shapiro recently completed At the Shore of the Sea, Concerto for Violin and Orchestra, which will be co-premiered by four major United States orchestras and recorded in 2023 and three piano pieces called Interludes for piano (expressing hopes for healing for every one and dedicated to Lara Downes).
Shapiro's piano pieces Passages based on Biblical portions will be premiered at Bargemusic and recorded by pianist Steven Beck.
Shapiro's opera The Slave based on the novel by Isaac Bashevis Singer, libretto by Hannah McDermott is in preparation (to be performed by a consortium of opera companies).
Michael Shapiro's large scale work entitled Voices for tenor soloist, chorus, and chamber ensemble based on Sephardic poetry of the Shoah will be premiered by Daniel Mutlu, tenor, Ember Choral Arts conducted by Deborah Simpkin King in Manhattan at Central Synagogue and in Westchester at Temple Shaaray Tefila and recorded for Paumanok Records in the U.K. by the BBC National Chorus and Orchestra of Wales with Mr. Mutlu as soloist and conducted by the composer.
This year and coming seasons Michael Shapiro's new operatic version Frankenstein-The Movie Opera and his full length opera The Slave will both be premiered, as well as several other performances of Frankenstein-The Movie Requiem and Frankenstein-The Movie Score in Florida, Kentucky, California, Ohio, Tennessee, Montana, Mississippi, and Canada as well as the Italian premiere in Milan by the Orchestra Sinfonica di Milano Giuseppe Verdi, Michael Shapiro, conductor, the German premiere at the Oper Trier, Philharmonisches Orchester der Stadt Trier, Trier, Germany, Andrey Litvinenko, conductor, and by the Western Piedmont Symphony, Matthew Thomas Troy, conductor, the Orquesta Sinfonica de Puerto Rico, Rafael Enrique Irizarry, conductor, and the Steamboat Springs Music Festival, Mark Gould, conductor.
Soprano Ariadne Greif has recorded Michael Shapiro's song cycles for Paumanok Records accompanied by the composer, which was issued in January 2021 on CD and download on the major platforms.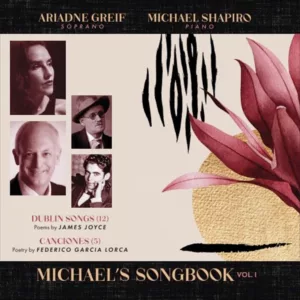 Cellist Sara Sant'Ambrogio shall be performing for broadcast Michael Shapiro's Eliahu Hanavi Variations for solo violoncello.
Cellist Christopher Ahn has performed on a Lowell Milken Center for Music of American Jewish Experience video broadcast Michael Shapiro's Eliahu Hanavi Variations for solo violoncello.
His Archangel Concerto for piano and orchestra was recorded by Steven Beck with Michael Shapiro conducting the BBC National Orchestra of Wales as well as recording his Roller Coaster (premiered by Marin Alsop conducting the Cabrillo Festival of Contemporary Music Orchestra), Perlimplinito, Opera Sweet, A Lace Paper Valentine (entr'acte music from Shapiro's first opera), and Widorama! (his arrangement of Charles-Marie Widor's famous organ Toccata), which were premiered on BBC 3.
Some of these works are being featured on SiriusXM Symphony Hall Living American and Classics on Film programs hosted by Shapiro, and over eighty (80) public and commercial radio stations in the United States from New York to California, on the Canadian Broadcasting Corporation, via BBC 3 and Bradley Stoke Radio in the United Kingdom, Australian National Radio, Polskie Radio (Poland), and in South Africa.
His new work for band In Every One will be performed by the University of Memphis Wind Ensemble, Albert Nguyen, conductor, in Tennessee, the Kennesaw State University Wind Ensemble, David Kehler, conductor, in Georgia, and the Wind Symphony at Bowling Green University, Bruce Moss, conductor.  In addition at these universities, Michael Shapiro will be active in teaching residencies with conducting and composition students.
Recent performances of Michael Shapiro's music to the classic talkie film Frankenstein included its European premiere at the Bergen International Festival by the Dragefjellets Musikkorps, conducted by Michael Shapiro, a repeat performance by the Dallas Winds, Jerry Junkin, conducting, at the Moody Performance Hall in the Dallas Arts District; United States Navy Band, Captain Kenneth Collins conducting, at the AFI Silver Theater, Silver Spring, Maryland; Piedmont Wind Symphony, Matthew Thomas Troy, conducting, at Reynolds Auditorium, Winston-Salem, North Carolina; Syracuse University Symphony Orchestra, James Tapia conducting, at Setnor Auditorium, Syracuse, New York; Arizona State University Symphony Orchestra, Jeffery Meyer conducting, at Gammage Auditorium in Phoenix and at Mesa Performing Arts Center, Mesa, Arizona; Rideau Lakes Orchestra, Alexandra Guerin conducting, at Mason Theatre, Perth, Canada; Livingston Symphony Orchestra, Anthony LaGruth conducting, at Mt. Pleasant School, Livingston, New Jersey; and the St. Petersburg Chamber Philharmonic, Jeffery Meyer, conducting, at Lendok Film Studio, St. Petersburg, Russia, the York Symphony and the Yakima Symphony conducted by Lawrence Golan, the Indianapolis Chamber Orchestra, Matthew Kraemer, conductor, Steamboat Springs Strings Music Festival, Mark Gould, conductor, Connecticut College Orchestra, Matthias Elmer, conductor, Wesleyan College Orchestra, Nadya Potemkina, conductor, Texas Woman's University Wind Symphony, Carter Biggars, conductor, University of Hawaii Wind Ensemble, Jeffrey Boeckman, conductor, Rogue Valley Symphonic Band, Daniel Kocurek, conductor, Ashland, Oregon, and Sonoma State Symphonic Wind Ensemble, Andy Collinsworth, conductor.
Michael Shapiro's weekly broadcast show (appearing on the Crossover Media network, FaceBook, Vimeo, and YouTube, and as an Apple Podcasts), INTERPLAY, Conversations in Music, features guests such as JoAnne Falletta, Sir James Galway and Lady Jeanne Galway, Ivan Fischer, Giancarlo Guerrero, Gerard Schwarz, Jerry Junkin, Arthur Fagen, Andrew Litton, David Stern, Anton Nel, Leonard Slatkin, Tim Fain, Gil Shaham and Scott Wheeler, Eric Jacobsen, David Leibowitz, Gabriela Montero, Norman Lebrecht, Chee-Yun, Elliott Forrest, Garrett Keast, Lidiya Yankovskaya, James Robinson, Lara Downes, Sara Sant'Ambrogio, Adrian Partington, Simone Dinnerstein, Natasha Paremski, Blind Mississippi Morris, Jamie Bernstein, Daron Hagen, Alessio Bax, Lucille Chung, Maya Beiser, Andreas Haefliger, Deborah Simpkin King, Sarah McKoin, Robert Carnochan, David Kehler, Albert Nguyen, and Kevin Sedatole, Francesca Zambello, Martin Bresnick, Michael Christie, Anton Nel, Alexander Mickelthwaite, Michael Schelle, Alex Shapiro, James Tapia, Carolyn Watson, Kevin Suetterlin, and Mathias Elmer,  Jennifer Higdon, and the Frankenstein Monster.
Listen to latest recordings at:
And interviews on NPR: